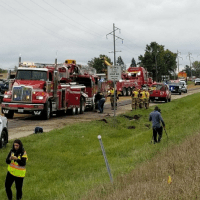 Highway 41 from Galesburg to Abingdon spent most of the afternoon closed due to multiple accidents in a construction zone. 

Fresh oil combined with wet conditions caused three accidents Thursday afternoon almost simultaneously. 
A semi and trailer jack-knifed just north of Abingdon and came to a rest on the east side of Highway 41 – no injuries were reported. 
On the other end of 41 just south of Monmouth Boulevard in Galesburg in front of Swing's mobile home park, a flatbed tow truck with a SUV lost control and reportedly rolled into the ditch. 
A responding Galesburg fire truck then also lost control on the slick road and rolled over into the ditch as well. 
Highway 41 remained closed for much of the afternoon as crews worked to clean up the wreckage. 
First responders from the Galesburg Police Department, Knox County Sheriff, and Illinois State Police were on scene. 
A couple of construction workers were reportedly sent to area hospitals with minor injuries.