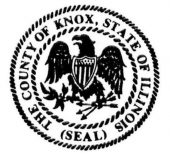 The Knox County Clerk's Election office is working to getting things ready for the upcoming November election, amidst the coronavirus pandemic.
It was announced Thursday in a press release that the County Clerk's office completed the mailing of over 8,500 absentee ballot applications to Knox County voters from the last three elections and they should be arriving in mailboxes soon.
Knox County Clerk Scott Erickson is encouraging voters with health concerns and restrictions to consider utilizing the Vote by Mail option for casting a ballot this year. "We want the voters to know that their safety is very important to us and we want to make sure that any person who is eligible and wants to vote gets the opportunity either in person or by mail."
Voters who want a vote by mail ballot should complete and return the application for an absentee ballot to the County Clerk's office. Ballots will be mailed out in late September.
For voters living within the city limits of Galesburg, they will receive their application directly from the Galesburg Election Commission.
The release also indicates that other groups have been sending out their own versions of the application for an absentee ballot in various formats. The County Clerk's office says that, in order to keep the process as direct as possible, "voters are encouraged to return the application provided by the Election Office. This direct response will help avoid any delays that may occur in processing the request."
Questions can be directed to the County Clerk's office at (309) 345-3815.