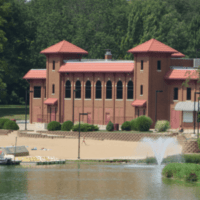 Director of Parks and Rec for the City of Galesburg Tony Oligney-Estill gave some updates on some recently reopened and adjusted amenities now that Phase 4 of Restore Illinois is upon us. He says he understands that it can't be easy to prepare or plan for, but his department didn't get information until after Phase 4 was implemented. City-owned restrooms are open – crews clean every two hours. Playgrounds have reopened – but be aware that CDC guidelines don't require equipment to be disinfected. "There are a couple of reasons," Oligney-Estill said. "One, resources-wise, but two, if we sanitize it and put chemicals on it, immediately after we sanitize it and someone touches it, are they ingesting harmful chemicals? Also, because it's outdoors, the sanitation and chemicals kind of dissipates very quickly. All of those things together don't make sense. Make sure you have some hand sanitizer, we do have soap in the bathrooms, and that sort of thing. You need to take your precautions as well."
Golf is almost back to normal. Two riders are allowed in a cart at a time. If the riders aren't from the same household, they are required to wear face-coverings. Tee times have been extended from 8 minutes to 10 minutes – and you are encouraged to call ahead for a tee time. The clubhouse at Bunker Links has also reopened with tables physically distanced from one another.
Phase 4 allows Lakeside water park to reopen, beaches, splash pads, and wading pools. "My staff is focused on getting the beach open as quickly as possible," he said. "Hopefully, that will be in the next week or so.  We're going to get the two splash pads opened first because we can get those opened faster. After we get those open, we'll get the wading pools opened. (We'll probably) be starting on the south side – because they don't have any other water, where the north side has the beach. So we'll work south to north on the wading pools. In the meantime, we're going to try to get Lakeside open."  With so much uncertainty leading into the swimming season, it wasn't possible to plan on having staff on hand ready to go when things began reopening. "We need staff," he added. "So if you're looking for a part-time job, we need rec attendants to manage the facility, and lifeguards to actually staff." Oligney-Estill added that if there's any chance for Lakeside to reopen this summer, they need applicants now. Lakeside is possibly looking for a reopening in mid to late July. You can find an application on the City's website, and training will be available for new lifeguards.