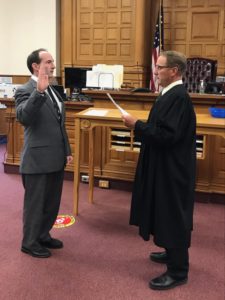 The Republican nominee to be the next State's Attorney in Warren County has been hired by the department he hopes to oversee after the next election.
Thomas R. Siegel was sworn in Monday morning as the new Assistant State's Attorney.
He says in a Facebook post that he is, "blessed for the opportunity and excited for the new path ahead. This job will aid in my transition to office and prove my abilities ahead of the election."
Siegel ran a successful primary on the Republican ticket against former Warren County ASA, and former Knox County ASA, Andrew Stuckart in March, winning with nearly 56 percent of the vote.
In early June, Stuckart resigned from his position in the county, giving Siegel the opportunity to gain some experience before the November election.
Siegel will be working alongside current State's Attorney Andrew Doyle, who is running his own campaign currently to be the next Associate Judge in the 9th Judicial Circuit. His opponent is current judge and Macomb attorney Emily Sutton.
Prior to him being sworn in as an ASA, Siegel was the longtime public defender in Warren County from 2006 to 2018, resigning to focus on his private practice.
Siegel still has an opponent in the November election, independent candidate Andrew Youngquist.