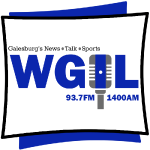 Badger Combatives, a gym in Galesburg with classes ranging from toddler self-defense to women's cardio kickboxing reopened this week despite Gov. J.B. Pritzker's orders barring such businesses from opening yet.
Owner Beau Admire says Badger Combatives is a family business, and they just couldn't sustain being shut down any longer.
Admire hired a lawyer and filed paperwork with the City, the Knox County State's Attorney, and County Health Department, which gave them 48 hours to seek a court order to contest the business reopening.
That 48-hour window closed on Friday, which Admire says gives him legal clearing to open.
"Besides business licensing through the state, we have no licensing through the state. Our lawyer has made it clear he felt like everything in the process was going well enough to go forward," Admire says.
Admire argued that he was owed due process before being closed down, and a blanket order for businesses to close is not legally sufficient.
As it stands, gyms could open in Phase 3, with outdoor and one-on-one classes only, and then in late June could open to classes with 10 or fewer people.
"That wouldn't even come close to how many students we had. Before we were shut down we were at about 160 students, the average class was 20 people. So to open back up at part numbers but having to go back to paying full bills everywhere really wasn't going to work for us," Admire says.
He says they aren't following any new protocols as far as sanitization or distancing.
He says they've always been required to perform intensive cleaning of equipment every day, and asked students to stay home if they're sick, and says they will stick by those standards.