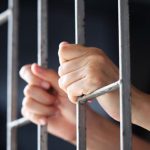 A Galesburg woman was arrested early yesterday morning on a 100-thousand dollar Knox County warrant for escaping from a penal institution.
According to a Galesburg Police Report, officers were dispatched to the 800-block of West Main Street on information that 23-year-old Savannah D. Hedgepeth was to be found in a residence there.
Reports say that officers arrived at a residence and were informed that she was there. Officers found her in a downstairs bathroom and took her into custody.
Hedgepeth had pleaded guilty in August to three different cases of methamphetamine possession and received a total sentence of 180 days jail time with 71 credited.