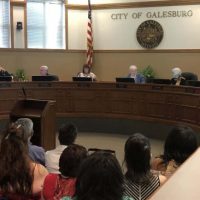 Much of the Galesburg City Council's annual budgeting process was finalized Monday night with the approval of a tax levy and budget.
The $9.4 million levy increase is an increase of 1.19 percent over last year, but the rate will go down 1.9 cents due to rising Equalized Assessed Value of properties.
The council also approved the annual classification and salary schedule. The salary schedule enacts the 2.5 percent employee increase and amends schedule to make changes to positions, some of those related to Illinois' minimum wage beginning to rise next year.
The deputy fire chief position is being created to replace the fire marshal position. Galesburg's new fire chief Randy Hovind served as fire marshal until his hiring last month.
The schedule also includes the elimination of the Police Captain position with a deputy police chief role which Rod Riggs will serve in. Additionally, a Community Development Director job was created to oversee planning and housing efforts.
With a newly created position to oversee Planning, Wayne Carl's role as Director of Planning and Public Works was reinstated to Director of Public Works.
Aldermen also approved a bid for a black vinyl coated chain link fence to serve as a barrier between Roger's Park on West Street and the train tracks for about $22,000.
Public Works Director Carl says that BNSF was approached to contribute. He also says that he thinks that ultimately that BNSF didn't want to set a precedent where they would have to install a fence along all the tracks in Galesburg.
Council approved a bid for Music Makers of Galesburg to install a new sound system at Lakeside Splash Zone for $11,000.
The administration says that some parts of the sound system go back to the 1980s, and in some cases is not operational
Aldermen also approved a bid $905,000 from Mechanical Service, Inc. for the replacement of the ventilation system and installation of a cover over the clear well at the Oquawka Water Treatment Plant.