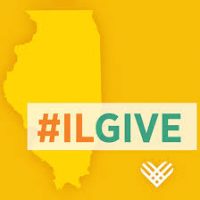 In an effort to help boost end-of-year fundraising goals and grow community support and awareness, there's a "Giving Tuesday" event on December 3rd being held online.
Hosted by Forefront – a statewide association that assists non-profits and grantmakers – the 6th annual digital, day-long event will help local non-profits build capacity and grow the giving community.
The event will unify the state in an effort to raise as much money and awareness as possible for Illinois nonprofits in a 24-hour period.
If you are a non-profit, you're invited to create a mobile-friendly donation page on the fundraising platform at ILGive.com, where funds raised will go directly to participating organizations.
ILGive donors can use the website to contribute to hundreds of verified nonprofits in Illinois, spanning all types of causes in the arts, social justice, health and wellness, and more.
In 2018, 333 Illinois nonprofits raised funds on the Illinois Giving website.
The money donated to them goes right back into Illinois neighborhoods and communities.
Starting in 2019, four communities—Fox Valley, Knox and Warren Counties, Springfield, and Quincy—are hosting their own dedicated pages highlighting their unique non-profits.
In 2018, Illinois was ranked #2 in online donations for a statewide day of giving.