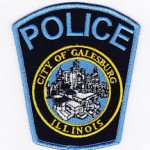 No arrests have been made after a man told Galesburg Police he was robbed by a man armed with a firearm.
According to a police report, officers were dispatched to the area of Monmouth Boulevard and West Brooks Street for a robbery at around 3:07 pm on Thursday.
On the scene, a 28-year-old man was found to have lacerations to his forehead and was actively bleeding.
He told police that he was approached by an unknown man who asked him for a cigarette.
When the man turned his back to retrieve one for him, the unknown male struck him with a black revolver.
The victim said that the man reached into his pockets and took between $400-$500 in cash from him and then departed in a tan-colored SUV.
Officers combed the area but no witnesses were found, according to the report.