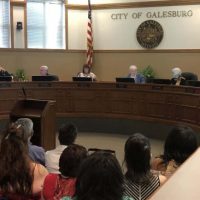 The James Kelly Law Firm has concluded a review of the City of Galesburg's policies and handling of sex and race discrimination complaints, and they've determined the city's on the right course.
City Council hired the Kelly Firm in July after originally authorizing the review in April.
The Heyl Royster Law Firm was initially hired but they had to back out due to a conflict with another client.
The Kelly firm has worked with the city in the past which is one of the things Mayor John Pritchard told WGIL that was a plus in the firm being hired.
Pritchard said in July that it would have delayed the review had the city vetted additional law firms, and cost an extra $20,000.
WGIL has not seen the complete review but a summary provided by the city.
That summary says the firm found no deficiencies in the city's handling or policy, and that there were no instances where administration used improper judgment.
Mayor John Pritchard says "acting with integrity and in the city's best interest is of utmost importance to the City Council and City Administration."
The James Kelly Firm said although not all individuals contact consented to be interviewed, it was not a hindrance to the investigation.
The findings are the result of months of document review, investigation, and individual interviews.