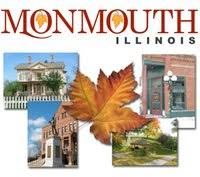 A "milestone" presentation into the long-term strategic plan to revitalize downtown Monmouth was given to the City Council Monday night.
In May, aldermen had entered into an agreement with 353 Court LLC to formulate and implement the downtown strategy. Since then, the group has been tasked with various duties throughout the community.
City Administrator Lew Steinbrecher tells WGIL that one aspect of the plan is to create a strong partnership between the city government and downtown businesses.
"Helping to build a stronger relationship between local government — the City of Monmouth itself — and the downtown businesses. I think one of the things that is absolutely critical to the success of revitalization is to make sure there is a strong public/private partnership in that both the city and businesses have a vested interest in revitalizing the downtown. And, we share a common vision of what that is."
Steinbrecher, City Administrator adds that 353 suggested investing a large sum of money annually into the downtown to preserve the buildings, aid businesses, and create a brand.
"They really offered a number of recommendations including a recommended budget of $500,000 annually with much of that going into securing and stabilizing some of the downtown buildings. Over the last several years, the city has put quite a bit of money into some of the buildings. Most notably, the Vaughn Jewelry's building, which the city owns."
The recommended amount of money spent on building improvements was $325,000 while $100,000 was recommended to be spent on aiding businesses and $75,000 to be spent on branding the downtown.
Along with the funding recommendation, it was recommended the city follow a four-year four-point checklist to help give city leaders structure to execute the recommendations.
A draft is available for public viewing can be seen here.