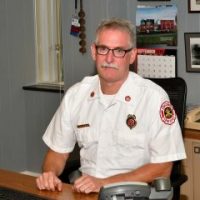 "Goodbye tension, hello pension," Galesburg Fire Chief Tom Simkins joked as he reminisced on the past and talks about his future. Chief Simkins announced on Thursday that he'll be retiring from the department effective October 25th this year.
Simkins has spent the last nearly 39 years fighting fires and implementing public safety.
The past 35 years have been with Galesburg – the last ten as Chief after the retirement of John Cratty in 2009.
"It was kind of a career-by-mistake to some degree," Simkins joked. "I went to college and got my degree in Zoology which I always said was pretty fitting for the fire department. When I was born, my father was a fireman in Abingdon. He started there in '56 and I was born in '58. So I've kind of been chasing the siren for about 61 years now. That's going to be the weird part (about retiring)."
Simkins has also been Knox County Emergency Management Agency Coordinator for the past decade.
Changes the Chief has seen during his tenure include major things like; portable breathing apparatuses and more technical rescue and hazardous materials training.
"I would also say the big change is cell phones and the ability to get to 911," Simkins added. "Our call volume every year is up five or six percent. When I started, I think our call volume was about 1,500 calls and this year we may be hitting 5,000. I remember when I broke my arm in high school, I walked home and mom took me up to the doctor and he put a splint on it and all that. Today if that happens, before I hit the ground falling out of the tree, there are three people on their cell phones and the fire department is around."
He also says he can foresee a sprinkler ordinance getting passed for newer buildings. The City of Galesburg will conduct a search similar to Police Chief where a community survey has been established to aid in the search.