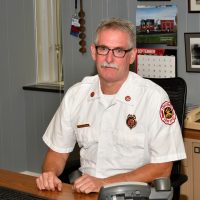 Now that Galesburg has a new police chief, it appears it is time to find a new fire chief.
It was announced Thursday morning that Chief Tom Simkins will be retiring effective October 25, 2019, after leading the Galesburg Fire Department for the last 10 years.
He began his career with the City of Galesburg in 1985 and has served as a firefighter/EMT, Fire Captain, Battalion Chief, and Operations Chief of the Galesburg Fire Department. In addition, Chief Simkins has been the Knox County Emergency Management Agency Coordinator since 2009.
"I am extremely grateful to the City of Galesburg for having allowed me the honor and privilege of serving our wonderful citizens as Fire Chief," Simkins said in a press release from the city. "It is with an overwhelming sense of pride that I exit the best job in town, knowing full well that every emergency in the community and surrounding Fire Protection Districts will continue to be handled with the utmost expediency and professionalism by a dedicated team of caring and competent firefighters."
Battalion Chief Brad Stevenson will serve as the interim fire chief while the City undertakes a competitive nationwide search to fill the roll.
The City intends to start accepting resumes for Fire Chief starting on Friday, September 13 through Friday, October 4. A comprehensive search, similar to the recent one that was undergone to fill the role of Police Chief, will be conducted.
A portion of the process involves a community survey. You can access the survey by clicking here.
Chief Simkins will join Galesburg's Morning News Friday morning at 8:10.