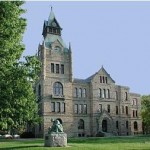 A Knox County judge denied a motion on Wednesday to dismiss the civil lawsuit Jenni McGruder's family filed against the operators of the Seminary Street Pub.
McGruder was killed behind "The Pub" in April 2018, by shots fired by Jonathan Kelly. Kelly was sentenced to 75 years in prison in May.
Attorney for the estate of Richard Spitzig, Scott Bjorseth argued that Spitzig had been dead for two months before McGruder was killed and "didn't owe a duty to anyone."
Shirley Chu sold the The Pub to her brother-in-law, Spitzig in 2017
Bjorseth went on that business owner is not responsible for a third party criminal act, although Judge Greg Baber says there may be case law to the contrary.
Attorney John Kamin argued for Chu and Cherry Holdings to be dismissed from the suit saying that Kelly's act was "not the type of foreseeable event" that would make a business liable.
Judge Baber denied both defense attorneys' motions.
Baber says he thinks there's a possibility the "corporate veil" could be pierced to hold Chu responsible for Cherry Holdings' liabilities.
The parties are scheduled for another case management conference on Nov. 13.