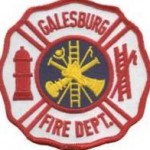 A ceremony honoring the tragic events of September 11th, 2001, is happening Wednesday morning at the Galesburg Fire Department's Central Fire Station.
As part of the Patriot Day remembrance, the only two Galesburg firefighters killed in the line of duty will be honored.
Galesburg Fire Chief Tom Simkins tells WGIL that the two men killed were Frederich Sunderlin and Jon B. Slater.
Simkins says that Sunderlin was killed during the Union Hotel fire in April of 1871. Slater, a former fire chief, was killed in the 1904 Galesburg High School fire.
"We finally got the money gathered around to finish off the memorial and put up the line of duty plaques in granite on the back of the Central Fire Station sign. A lot of people don't even know that's there. This is the year for honoring those two gentlemen."
WGIL will broadcast the Patriot Day ceremony live starting at 9:00.