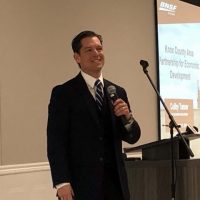 A top executive with Knox County's largest employer says his company sees good things ahead for Galesburg.
Colby Tanner is Vice President for Economic Development with Burlington Northern Santa Fe, and told the annual meeting of the Knox County Area Partnership for Economic Development Tuesday one of the things that will help that future is the recent designation by the railroad of the long-vacant Logistics Park Galesburg as a "certified site."
"That's a fantastic site," Tanner said. "The grade is pretty much flat — just enough roll to get the thing to drain. You're right on the interstate. You have fantastic access to the interstate. You're right off the rail line. You have all of the utilities in place. My only critique of the property was instead of 350 acres, can we make it 5,000?"
Tanner says it might take a little time to get a tenant, but once it happens, it will happen quickly.
"We started certifying sites about three years ago," says Tanner. "So, anytime you do that, of course, it takes a little while for work to get out, for us to get our messaging out there, and then for people to find us and get their facilities built. But, definitely, [the process is] having an impact."
Tanner cites a location in Minot, North Dakota as an example — which just last week announced another new client into its logistics park. He says having such space ready to go can significantly cut a client's development time and costs.
BNSF last year hauled more freight across its systems than any other railroad, and more than any other year in its history.