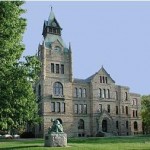 Bond was set at $7,500 for a 20-year-old Galesburg man arrested early Tuesday morning after being held at gunpoint by the homeowner he was allegedly trying to rob.
Chance T. McKee made a video appearance in Knox County Circuit Court with Judge James Standard where he faces felonies including two burglary charges, two criminal trespassing charges, and a misdemeanor of theft.
According to police reports officers responded to the 400-block of Jefferson Street at about 4:00 a.m. where the resident of the home allegedly had McKee, who was trapped in the bathroom, at gunpoint.
Officers secured McKee into handcuffs and lead him out of the residence. Police investigating the scene discovered a multi-tool and a cut window screen. Indication was that McKee had climbed onto the roof and used the tool to cut the attic window screen to gain entry.
After being taken to the Knox County Jail, McKee allegedly admitted to officers he broke into the home to take money.
He allegedly told officers that he lived about 4 or 5 houses down from the residence.
He said he used the bathroom when he heard the residents moving around and tried to escape out the window.
Judge Standard appointed the public defender to represent McKee and scheduled a preliminary hearing for August 28th.