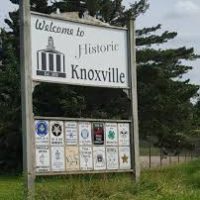 The Knoxville City Council passed a new ordinance at last night's meeting that generated plenty of public comment over the past two months. The semi-controversial issue of allowing golf carts be operated on designated city streets has brought plenty of local opinions forward. The ordinance passed 5-3. With the ordinance: designated routes for golf carts will be established – permitting them to make direct crossings of traffic light or 4-way stop sign intersections. Golf carts must be equipped with brake lights, headlights, rear-view mirror, and slow moving vehicle emblems. They can only be operated by licensed, insured drivers, and must have a valid $50 permit issued by the city of Knoxville. Forms and procedures will be in place by they next city council meeting to establish golf cart inspections.
Another topic on the agenda Monday night was the replacement of the sidewalk at 204 West Main Street. A home that sat on the lot had been removed, and in doing so, contractors damaged the aging sidewalk. Moving forward, Mayor Dennis Maurer suggested having demolition projects be inspected in a four-point process. Number one: making sure sewer and gas lines are capped properly; two: surveying the condition of existing sidewalks prior to demolition; three: making sure the foundation of the structure is fully removed prior to the hole being filled in; and four: a survey of the work upon completion. Council then voted and approved the hiring of part-time painter for the city Martin Sterr as well as the hiring of full time police officer Andrew Avery.
Both employees passed all pre-employment screenings. Maurer also informed the alderman that at the next Knoxville City Council meeting, they will hear proposals for possibly a new grocery store in downtown Knoxville in what was the "old Goff's Building" across from Big Catz BBQ. The meeting is scheduled for Monday, August 20th.