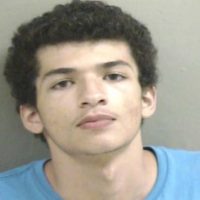 A Galesburg teenager who admitted during a court hearing he has no job, no money, no high school diploma, and no consistent home may have a difficult time getting out of jail after being arrested for allegedly opening fire last Saturday night at the Galesburg Railroad Days carnival.
A judge set bond in the case of 18-year-old Latrell Patterson at $500,000 Wednesday. Patterson is formally being charged with four Class-Four Felony counts of Aggravated Unlawful use of a Weapon, a Class-Four Felony count of Reckless Discharge of a Firearm, and a Misdemeanor charge of Possession of a Firearm without a Firearm Owners I.D. Card.
Patterson, Knox County Assistant State's Attorney Jonathan Schlake told the judge, the shooting during a fight that spread into the carnival around 9:30pm Saturday "looked like it was a planned activity." After Patterson allegedly fired at least two shots, Schlake says, Patterson fled to a waiting vehicle that left the scene.
Judge Raymond Cavanaugh cited the threat to public safety in setting the bond higher than Schlake recommended, along with a misdemeanor weapons charge Patterson received a Notice to Appear in court on ten days ago. Patterson otherwise has no adult criminal record.
Patterson will be back in court for a preliminary hearing July 17th.