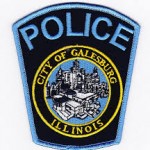 One man has been arrested on felony driving under the influence in Galesburg.
At around 3:00 p.m. on Thursday, Galesburg Police officers were dispatched to North Prairie Street for what was believed to be an intoxicated man driving a Honda sedan. According to police reports, officers discovered a running vehicle in the middle of the roadway just north of the Selden Street intersection on Prairie.
The vehicle's front left tire was disconnected at the cv-shaft and was no longer aligned with the right front tire. The cv-shaft and the lower a-arm were resting on the roadway.
The driver, 47-year-old Mark E. Nuckles of Galesburg, exited the vehicle to speak with officers. Officers noted that Nuckles' balance was poor and he had to lean against his vehicle for support. Officers also detected a strong alcoholic odor emanating from Nuckles as he spoke. Officers noticed a fresh abrasion to Nuckles' left knee.
When asked about the damage to his vehicle, Nuckles told officers he didn't know. Officers asked him for his drivers license and proof of insurance twice, and both times Nuckles made no attempt to provide either. Reports indicate Nuckles' speech was slow and slurred, and he had difficulty answering questions. His eyes were noted to be watery and bloodshot and he had difficulty keeping them open.
Officers learned that his license had been revoked on July 27, 2016, and that he had a history of arrest for driving under the influence.
When asked how much he drank, he told officers five beverages at home, but he could not recall his home address. When asked again about the damage to the vehicle he could not provide an answer to what happened.
A field sobriety test was attempted by officers, but Nuckles had difficulty standing, maintaining his balance, and walking, leading him to fall in the roadway.
Officers requested GHAS to transport Nuckles to a hospital for evaluation.
When asked again about the amount he had drank, he told officers he had consumed 12 drinks.
He was arrested and transported to OSF St. Mary Medical Center.
Officers conducted a vehicle inventory, finding a "large amount of empty beer cans", a plastic cup in the center console containing beer, and a full can of beer in a grocery bag.
After a blood test and field sobriety test were performed at the hospital, Nuckles was transported to the Knox County Jail.
Reports indicate he is being charged with aggravated driving under the influence, for the DUI while not having a valid drivers license.