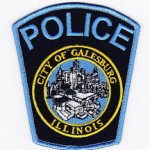 A Galebsurg man was arrested this weekend for possession of methamphetamine after officers identified him as wanted on failure to appear warrants.
Galesburg Police officers were conducting a business check of J-B Hawks and Lucky's on North Henderson Street at around 2 P-M on Saturday.
While at Lucky's, officers identified 25-year-old Jerad D. Sperry of Galesburg who had an active warrant in Knox County.
He was apprehended by police and searched, to which officers allegedly found a baggie containing a crystal like substance – which Sperry told officers was meth.
He was taken to the Knox County jail for processing. The baggie was weighed at 1.77 grams.