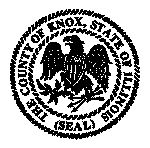 The Knox County Board approved to reconsider their options regarding the removal of a tree from the Courthouse grounds to eliminate nesting crows who leave droppings on the courthouse lawn – creating a possible health hazard – at Tuesday night's meeting.
Public Comment from Sofia Tagkaloglou from the Galesburg Tree Commission urged the board to strike down the motion to remove the tree, and instead consider maintaining the tree to keep the crows off the grounds.
While a motion to remove the tree was started, board member David Amor made a motion to refer the item back to the Sheriff-Jail-Courthouse Committee to look into different options for the tree.
The majority of the board agreed, and the motion was approved 13-1 with Lyle Johnson being the lone no vote, with Rick Sandoval was not in attendance.
Johnson told the board his reasoning for voting against the referral was that in the past the county has tried many times to remove the crows, and he doesn't think they will move
The board also approved several other items including the new contract with the American Federation of State, County and Municipal Employees Local 1047, the Nursing Home union.
Several items from various committees were approved, including the bills from the building committee for the courthouse facade work, as well as the accounts receivable clean up and operational review for the nursing home.
The county also approved the appointments of Charles A. Cooly the second, and Sam Montooth to the Spoon Lake Sanitary District, Susan Lindsey and Kraig McCluskie to the Illinois Region 5 Human Services Transportation Plan Steering Committee, and Lowell Mannhardt to the Knoxville Fire Protection District.
The first meeting of 2018 will be the first to be held at the Galesburg City Council Chambers.