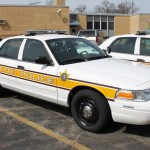 A Macomb man has died following a crash that took place around 8:43 p.m. last night in McDonough county near Bushnell.
An Illinois State Police news release indicates that 33-year-old David L. Shinn is the deceased. 
Shinn's Pontiac Sedan was traveling northbound on IL Route 9/41 when the vehicle failed to navigate a curve on County Road 2100 North. 
The car struck a curve indicator, stop sign and crashed into a tree. Police say Shinn was killed as a result. 
ISP was assisted at the scene by the McDonough County Sheriff's and Coroner's offices as well as Bushnell Police, Prairie City Fire, and IDOT.