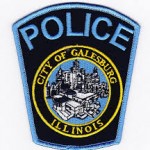 A 23-year old Galesburg man is facing felony charges for allegedly shooting a BB gun at two families' cars passing by Saturday.Ryan Nelson, according to police reports, shot at the cars near the intersection of North and Whitesboro Streets around Saturday night and also shot a male subject several times in the back and neck with BB's.
One male victim said he was driving in the area when his back passenger seat window was shot out, with his wife in the passenger seat and son in the back.
He stopped the vehicle to check on his son when he was hit by several BB's to the back and neck.
He told officers he turned to see Nelson standing in the yard of a Whitesboro Street residence.
GPD also made contact with another family Saturday, that said while they were driving near the same intersection the back window was shot out.
None of the victims required medical attention.
Nelson was being detained in the Knox County Jail pending a detention hearing Monday afternoon.
Nelson is facing charges of criminal damage to property and felony aggravated battery.
Judge Patricia Walton more than doubled the State Attorney's recommendation for bond, at $25,000, citing the "fact that an individual was struck."