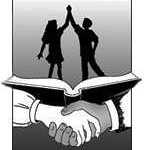 After years of managing the fiscal mess that was forced upon the school district by the state of Illinois, it appears as though District#205 is heading in the right direction. 
At Tuesday night's Board of Education Meeting, Ron Hilton presented the annual financial report to the board and gave some very good news.
For starters, Hilton said that the Illinois State Board of Education's ranking of the district's financial profile score came in at a 3.7 out of 4. The score is based on five different criteria. He added that the district's score was up from 3.6 the year before and that the district received the highest recognition designation they can receive.
As far as the district's operating funds, the district's assets as of June 30th, 2018 totaled out to $31.9M. The same date a year ago it was $24.5M, indicating a growth in the balance by $7.4M over the last year. The district's largest assets, cash & investments, totaled $22.7M compared to $15.6M for the year before.
The district's liabilities equaled out to $9.7M in 2018. The ending fund balance in the operating fund for 2018 was $22.3M. Hilton said that half a million of that was reserved, and $21.8M was unreserved.
Total revenue for the district in 2018 came in at $45.5M up $6.3M from 2017. Hilton noted that the district only budgeted for $41M of revenue in that year. On top of the revenue increase, the district saw a decrease in expenses of $2.5M, leaving an excess of $6.5M.
As far as the education fund, Hilton explained to the board that the district saw an increase of $4.8M from $34.6M to $39.4M between 2017 to 2018. That increase was attributed to the Evidence-Based Funding model, as well as special education money showing up in state aid instead of their own funding increase. He also attributed the larger surplus to the state being very late with payments.
The operations and maintenance fund saw a decrease in revenue and expenditures both, leaving with an excess of revenue and an ending balance of $2.4M. The district's transportation fund had an ending balance of $3M
Hilton also showed board members a graph of the district's revenues and expenditures over the last several years, which showed the district run a deficit in previous years but now showing a surplus.
Board member Maury Lyon asked how close the district was for reaching their goal for reserves. Jennifer Hamm, the district's Assistant Superintendent of Finance and Operations, said that for several funds the district had met its goal, but the education fund was only at 73%. The board's goal was to have 180 days worth of reserves for all funds and a 2-to-1 revenue to expenditures.