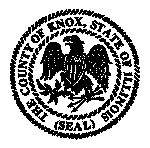 Interest may be growing in the vacant Agriculture Department lab on South Lake Storey Road.
During Tuesday night's Knox County Building Committee meeting Sheriff David Clague informed the committee that he had heard that the Animal Disease Lab was free to any government body that wished to have it.
He said he toured the facility with Former State Representative Don Moffitt and Knox County Area Partnership President Ken Springer and seemed impressed with what the building had to offer.
Clague said that the basement was temperature controlled, so county documents could be moved from the courthouse to the facility and stored there.
"It's sectionally controlled for heating and cooling. So if this section over here isn't occupied you can dial everything down," he said. "It's phenomenal, it's very well maintained."
He added that there was plenty of space to move departments out of the annex and there and still have plenty of room.
He said that Carl Sandburg College had been approached about taking it over, but weren't interested. He added that there was interest at one point from an international company, "… that was merging with a company in the United States that had looked at it at one time. But, something fell through on the international side – not about the building but the merger."
Clague said that the basement has minor seepage damage, which he believed was contributed to by the slope of the landscaping on the exterior, and he said that some minor roof repair was needed.
The Building Committee asked Cody Basham from Klingner and Associates to have a look at the building, and check with any documentation that Carl Sandburg College and the City of Galesburg has on it.