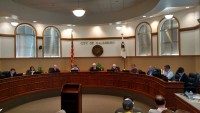 Galesburg Council tonight will vote on vacating some right of way adjacent to National Boulevard and Small Street.
Tramlaw Galesburg LLC, the owners of the development happening at the old Walmart building on National Boulevard, have wanted to install a sign advertising their soon-to-come businesses close to Henderson Street.
The City has excess right of way that is not needed for roadway purposes and with council approval will vacate the small grassy patch of land for the signage.
Council may allow the right of way to be vacated but would retain an easement on a portion of the property in order to maintain a city storm sewer on part of the property.
As a part of the consent agenda council may approve a grant agreement with the U.S. Department of Justice.
The Galesburg Police Department has been approved for a $25,000 grant to upgrade the offender registration program.
The funds would purchase of a reader and printer that would include digital prints and electronic system.
The roughly $6,000 not covered by the grant would be paid for from computer replacement fund.
This system is already used at the Knox County Jail.
Administration is also recommending council approve an agreement for municipal aggregation of electric supply.
Energy aggregation was approved by Galesburg voters in 2012 and since then the city has renegotiated three municipal aggregation agreements.