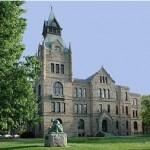 Bond was set and a public defender was appointed for a Galesburg man arrested Monday morning on possession of methamphetamine. 
On Monday 57-year-old Kurt M. Sotelo made a video appearance in Knox County Circuit Court with Judge Raymond A. Cavanaugh where he had his bond set at $6,000 with only ten percent, or $600, needed to get out of jail. He would post bail on Tuesday.
Judge Cavanaugh appointed Public Defender Daniel O'Brien to represent Sotelo.
According to police reports, officers observed Sotelo walking down Broad Street at around 1:25 a.m. on Monday wearing dark clothing. He was seen cutting through private property, for which officers stopped him and asked for his identification.
He told officers he was trying to "get to Dean's house" but that he was not aware of a fence being in the way. Officers identified Sotelo as having outstanding warrants and arrested him.
A search turned up less than half a gram of what later field test positive for meth found in a folded up piece of white paper.
A preliminary hearing has been scheduled for March 22nd.