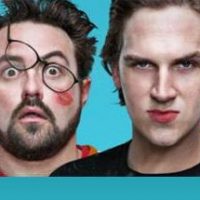 It would've been understandable had writer/director Kevin Smith canceled his show scheduled for The Orpheum Theatre after he suffered a massive heart attack in February. Not only has Smith not canceled, a second show has been announced for the same night of April 13 at Galesburg's historic entertainment venue.
Orpheum Executive Director Kevin Maynard says that they had been in talks about adding a second show pre-heart attack.
"And then afterwards I just sent an email saying like 'hey is this…' and they're like 'we're doing it. He wants to do the two shows," Maynard says.
The first show is set to be 'An Evening With Kevin Smith' and is already sold out.
The second most recently added show will start at 10:30 p.m. and will be a little different.
Smith and his friend and co-start Jayson Mewes will record their podcast "Jay and Silent Bob Get Old" live from the stage.
Smith directed and co-starred with Mewes in several of his films including "Clerks, Mallrats, Dogma and Chasing Amy."
They've said in the past they started the podcast in order to help Mewes stay sober after he relapsed into drug addiction in 2010.
Tickets are going fast but there are still some available for $37 at galesburgorpheum.org or at the Orpheum's Box office.