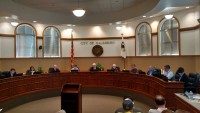 Galesburg Aldermen will be looking at approving updates to the minimum housing standards and a rental licensing program ordinance tonight.
Not since 1969 have the minimum housing standards been updated, and since then fire prevention and community practices for improved safety, health and basic quality of life standards have changed.
The proposed ordinance changes include safety exits, simplifications to explanations for lighting, ventilation and window needs as well as providing adequate fire safety exits for all dwellings.
Along side those, on final reading tonight is an ordinance to establish a rental licensing program for rental properties in Galesburg.
The city council will consider approving the license fee of $15 per rental unit – which is unchanged – as well as the rules for which city-staff will inspect properties.
Currently the city has the Rental Housing Inspection Ordinance but it was last updated nearly 20 years ago.
Aldermen will have on first reading an ordinance to require carbon monoxide alarms in all dwellings within the city.
Carbon Monoxide is responsible for between 20,000 and 30,000 people getting sick with accidental carbon monoxide poisoning, and approximately 500 people die each year.
On first reading tonight will be the addition of a Class A liquor license to operate the former American Legion, now Cedar Creek Hall.
Cedar Creek Hall will be an event venue, and would only utilize the license when an event is scheduled.
The council could also approve bids for meters and radios for the Water Department, a rotary mower for the Parks Department, and a greens mower for the Golf Division.