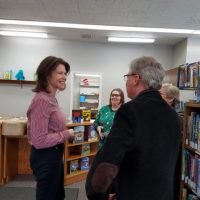 A local Congresswoman says even she was surprised to hear what students of Florida's Marjory Stoneman Douglas High School say they do and don't want Congress to do in regards to gun legislation in the wake of the fatal shooting at their school on February 14th.
17th District Democrat Cheri Bustos — speaking Thursday after donating surplus books from the Library of Congress to the Knoxville Public Library — says she got the chance to speak to four of the students earlier in the week at her Washington office, and believes the students know what can and can't be done.
"Their number one legislative ask was to get criminal background checks passed," says Bustos (D-East Moline). "I said, 'That's your number one ask? Your number one ask is not to ban assault weapons?' They said, 'No. That's not our ask, because that's politically not going to happen.'"
Bustos says the students knew they just wanted something to be done prior to the mid-term elections, until what she calls more meaningful legislation can be passed.
Bustos says she has gun owners in her family, a mother who worked as a nurse at a gun factory, children who are hunters, a husband who's Rock Island County Sheriff carrying a gun at virtually all times, and represents a district primarily made up of all those types of people. She does believe some legislation can be passed, in order to eliminate — or at least lessen — school shootings and other similar fatal incidents.
"Every single one of us in my family — we're law-abiding citizens. We've gone through all the proper training. When you have this 19-year-old kid who had clearly severe emotional problems — and I do mean severe — with a lot of warnings out there, that he had access to a weapon that literally shreds a person's insides when it hits a human being. There's something that we've got to fix."
Bustos says bump stocks should be banned as well, among other things — but says it's up to House Speaker Paul Ryan to call those pieces of legislation to votes.
Bustos calls the Florida students "rational" — and believes their behavior as teenagers is a lot better than some adults right now discussing the same issues.
(PHOTO: Rep. Cheri Bustos speaks with Knoxville city officials Thursday at the Knoxville Public Library.)