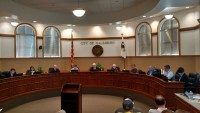 Private parties have expressed interest in Logistics Park as a transload/warehouse facility.
Galesburg alderman tonight will consider approving the development of a masterplan on how to feasibly accomplish this. A transload facility is a location where goods being shipped are transferred from mode of shipment to another, like from rail to a truck.
Council documents says given Logistics Park's proximity to rail and the interstate, this is a logical place for a transload facility. The proposal to be approved tonight is for architectural/planning firm ISG to prepare a masterplan.
ISG would come up with two preliminary concepts for the park and then narrow it to one concept based on input from stakeholders like BNSF, officials from the city and Knox County Area Partnership and select others.
Staff says there are sufficient funds budgeted in the Economic Development fund.
KCAP and city staff have reached out to BNSF about the park being developed as a transload facility to favorable indications.
Galesburg alderman could also approve the purchase of a new fire truck.
Galesburg Fire's Unit 54 was totaled in an oily incident on Route 41 in October, in which the truck rolled into a ditch, attempting to assist a tow truck that had rolled hauling a car.
The lone bid was from Alexis Fire Equipment for approximately $684,000. About $624,000 will be covered by the insurance claim from the totaled truck.
Two more properties could be approved for demolition at tonight's meeting.
Council documents say the planning department has taken the necessary steps in court for the demolition of both properties and are recommending separate bids to demolish each property at a total cost of about $24,000.
Administration says there are sufficient funds in the Inspections budget.