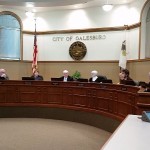 Last night Galesburg On Track presented the City Council with their value statements, which were accepted by the council during their meeting.
The two year process of researching and drafting thes e value statements involved a summit that took place in March, and multiple meetings and many interviews.
Deb Moreno, the Heart and Soul Coordinator for Galesburg On Track, said the through the two year process the volunteers made many discoveries, and shared them with the city council.
Moreno says that residents are passionate about the city, it's history, and the future. She added that while the economic landscape of Galesburg has changed, people have adapted to the change – but added that there is always room for improvement, "…people want to see more small businesses and economic vibrancy. They would like more things to do. But mostly they want to feel proud… We present these statements to you as a first step in what we in Heart and Soul call 'Playing the Long Game.'"
The Heart and Soul process was a partnership between the city of Galesburg and the Galesburg Community Foundation.
On the council's short agenda included discussion of the removal of timed parking spots in Parking Lot A, adjacent to where Fig's Italian Steakhouse.
In July of 2017, a fire forced Fig's and the Cellar to close their doors and it was later decided that the eatery would not reopen.
City Manager Todd Thompson presented the ordinance change to the board on first reading – which was not voted on last night. "The lot that sits at the corner of Ferris and Kellogg – behind where Jimmy John's is."
Thompson continued, adding "Originally these ten spots were designated for short term parking at the request of the restaurants Fig's and The Cellar. Since they're no longer in operation and no longer plan to go back into operation, it would be the recommendation to remove the restrictions for these ten spaces."
The board did approve one item last night, a change order for playground work being done.
The change order was made when the playground inspector determined the fall area needed to be larger than what had been originally been contracted for.
Aldermen voted 4-1 to approve the change order, with Russell Fleming being the lone no vote and Peter Schwartzman and Jeremy Karlin absent.