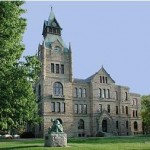 Pretrial conferences have been scheduled for two men involved with last month's pot bust aboard an Amtrak Train by Knox County Sheriff's Deputies. 
29-year-old Christopher Miller of Kissimmee, Florida and 35-year-old Kareem C. King of Brooklyn, New York had preliminary hearings held earlier this week in Knox County Circuit Court with Judge Anthony W. Vaupel.
Miller and King were arrested in connection with the finding of 65 pounds worth of marijuana aboard the California Zephyr as it traveled between the Golden State and New York on Thanksgiving Day.
King faces one count each of two Class X felonies: Cannabis Trafficking, and Manufacturing or Delivery of Cannabis, as well as a Class 1 Felony of Possession of Marijuana. His bond was set to $250,000.
Miller faces two counts of the Cannabis Trafficking Felony, and the same possession felony. His bond was set and then reduced to $100,000. As part of his bond, his passport was to be turned over to the Knox County Sheriff's Department.
Both defendants plead not guilty.