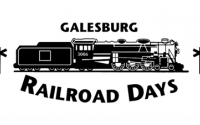 Aside from their normal discussions and passing of items on the agenda during Monday night's meetings, the Galesburg City Council also heard on changes coming to next years Railroad Days, as well as changes to the board. 
Dennis Clark the Chairman of the Railroad Days Board addressed the city council during the time for public comment at the beginning of the meeting.
He informed the council that the board had a good year, but stressed that improvements that could be seen, and changes that were coming to the board for next year, "Elyse Quarterman she is the Saint Mary Chapel Director that's going to be in Knoxville – she's going to be our Marketing Director. We're designating people to take care of social media. We also have a new treasurer, Mona Magness."
Community awareness was also a topic that Clark touched on. He said that a new website, and social media presence was part of next year's marketing plan going forward.
Aside from changes to the Board, and expectations for next year's carnival, Clark says that an old favorite that hadn't been done in years was being planned for a return in 2018.
"This next year we will be planning a parade. We'll have a parade for Railroad Days like we used to have several years ago. We are also going into Standish Park if we get that permission. We already have fifteen true craft vendors committed. We're shooting for 80-to-90 and we believe [from] talking to those vendors we can get 80 or 90 vendors in Standish Park."
Clark said that the revenues for the year were up for the year. He seemed to insinuate that by increasing the budget for the carnival, that revenues would increase even more.
According to Clark, the carnival was 23-percent of the budget this year.