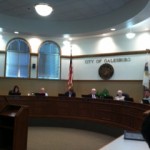 The City of Galesburg has set their tax levy and budget for next year.
The spending limits set last for FY18 included an estimated $52 million in revenue with over $62 million in expenditures.
Galesburg Alderman approved both measures without controversy last night, 6-0 with Alderman Jeremy Karlin not in attendance.
The tax levy will remain the same as last year.
Council also approved a new collective bargaining agreement with the Galesburg fire personnel union, IAFF Local No. 555.
City Manager Todd Thompson says that the current agreement with expire on Dec. 31, "For the past several months the parties have been working together to negotiate a successor agreement. The majority of the membership of the IAFF has ratified the agreement."
This new CBA will run from the first of 2018 until Dec. 31, 2020.
Russell Fleming was the one alderman who objected to the proposed agreement because he thought the pay raises were too generous.
Council also approve Cornucopia for a $75,000 revolving loan to be paid back over a three-year period at three percent interest.
City Manager Todd Thompson says that the city's loan committee reviewed the proposal and unanimously recommended council's approval.
Bartley Smith and Ryan Cardwell doing business as B.D.G. LLC was also cleared for $10,000 of TIF incentives at the end of their almost $200,000 in planned interior renovations.
The remodeling is being done to what was Chez Willy's on Seminary, which will eventually house a new eatery owned and operated by Smith and Cardwell.
Alderman also finally gave the all-clear for the Knox County Board to hold their monthly meetings in Galesburg City Council Chambers.
The county board had voted in favor of the move several months ago.