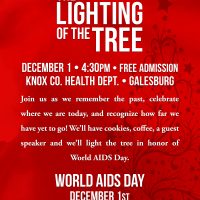 HIV/AIDS may not be the public health crisis at the front of people's minds anymore but it is still a critical issue for individuals and communities around the world.
This Friday is World AIDS Day, the first global health day that was created in 1988.
Knox County, as it has in past years, is having their own event to honor those who have passed from the disease, support those who are still living with it and raise awareness.
According to the United Nations AIDS advocacy arm, 35 million have died of HIV/AIDS since it was identified in 1984 and another 36.7 million live with it today.
This Friday at the Knox County Health Center's HIV/AIDS Memorial Garden a tree lighting ceremony is taking place.
Getting underway at 4:30 p.m., there will also be speakers and light refreshments.
The Knox County Health Center offers tests for HIV which are typically only 30 minutes and they also do blood draws.