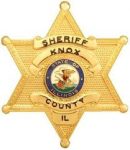 Nearly 65 pounds worth of pot were seized from an Amtrak train by the Knox Count Sheriff's Department on Thursday.
According to a release from the Sheriff's office, Deputies were conducting security checks at the Seminary St. Station on Thursday around 12:16 p.m. after receiving information that there was some suspicious activity aboard the New York City bound California Zephyr.
Once on the train, Deputies boarded the train and removed two passengers and three suitcases. The suitcases were not affixed with any owner information.
Additional investigation led to the discovery of nearly 30,000 grams of marijuana valued at approximately $250,000, that is according to the Sheriff's office release.
The two passengers were traveling to NYC from California. Evidence linked the two of them to the suitcases.
29-year-old Christopher Miller of Kissimmee, Florida and 35-year-old Kareem Cardinal King of Brooklyn, New York were charged with cannabis trafficking over 5000 grams, and manufacturing/delivery of cannabis over 5000 grams.
Both were incarcerated in the Knox County Jail awaiting an appearance in Knox County Court.