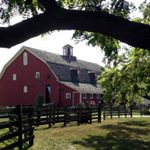 Christmas at Walnut Grove Farm is a local holiday tradition that not only brings visitors into the aesthetic of an old time country Christmas, but is also a good place to get some shopping done.
Over 20 artisans will be at this year's event with everything that's being sold is having been handmade by the seller including wood carvings and salsa.
Farm owner Jan King tells WGIL that some artists reach out to Walnut Grove Farm but that there are also plenty of artists that are referred by those that have been there in past years. She says that there 15 returning artisans like Chris Dokolasa with her pottery and Pam Madden with freshly made fudge.
Some of those newcomers include Luis Villa, a Peruvian jewelry maker, Wataga photographer Ellen McDowell and Galesburg's LeAnn Boone with papercraft.
Bring the kids, because Saint Nicholas will be on hand both days after 11 a.m. He might look a little different than you're used to seeing him as he will be dressed in the popular image of Saint Nick during the Civil War Era.
Portraying Saint Nick will be Rich Woods who says that all the artisans all do "very fine crafts" in a variety of mediums.
Walnut Grove Farm is a half mile north of Knoxville on Carr Street.
Admission is a requested donation of food to go towards local charity Christmas baskets.
The historic homestead's annual Christmas at Walnut Grove is now in its 26th year.