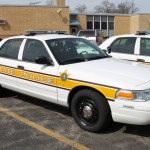 Early Wednesday morning a truck tractor pulling an ethanol hauling tanker trailer drove into the center median on I-80 near Annawan.This caused the truck to roll onto the driver's side and catch fire.
Illinois State Police Trooper Jason Wilson says that the ethanol tank was holding about 8,000 gallons.
He adds that the ethanol spilled onto the median and across the eastbound lanes while the fire was in progress and shut down I-80 for a period.
East bound traffic was diverted for a longer period of time, taking vehicles to Atkinson then U.S. 6, then back to the interstate at Annawan.
Police announced east bound traffic was reopened around 2:30 this afternoon.
There were multiple firefighting and hazardous material teams on site.