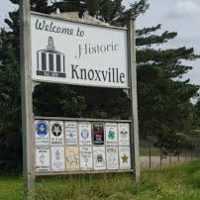 A regular city council meeting for the City of Knoxville was held Monday night at the Knoxville Police Station. 
The council heard updates on some problem properties. Demolition of an unlivable house at 207 East North Street is scheduled to be finished by the end of this week. The property will be put on the market for bids starting at $10,500 – with the council planning to revisit the issue in January. The council then heard a presentation from Ben Burgland of Blucker Kneer and Associates with the City's annual audit report. "The General Fund has got over a year of operating funds – which is real, real good," Burgland said. "If you look at your annual expenditures out of the General Fund, it's around $900,000. General fund includes streets, police, and administrative costs….you spend around $900,000…..you've got $1.2 million in unrestricted general funds – mainly your cash and receivables that come in.." Mayor Dennis Mauer said it was "great news" and that the City isn't "spending carelessly." Next year's audit report will give the council a better idea of where the City stands financially with the Love's Truck Stop and Big Cats BBQ in operation for a full year. 
The council was given a presentation on the annual liability insurance renewal by Chad Morse with Porter Hay Insurance. For the past several years, the City has had liability insurance through the Illinois Counties Risk Management Trust. Morse presented the council with an alternative due to aggressive pricing. "The pricing is so aggressive on it, I wanted to make sure – we looked back," Morse said. "In 2016, (it was) $94,611. In 2017 it dropped back down to $85,000….and the renewal this year was $90,000. But the Illinois Municipal League, their quote came in at $72,000. Almost $18,000 in savings with what you're paying now with very similar coverage." The only major differences between ICRMT and the Illinois Municipal League was $400,000 difference in Crime Coverage – and no volunteer/auxiliary coverage. The city could purchase additional coverage for festival volunteers and auxiliary police through the Illinois Municipal League. The council also approved a variance for an over-sized culvert and second driveway for the St. Mary Chapel property – making access easier for semis and delivery trucks. The council also approved the addition of a handicapped parking spot and handicap ramp replacement for the First United Presbyterian Church in Knoxville. City hall in Knoxville will be closed at noon on Friday. The Knoxville Christmas Parade is slated for December 2nd at 1:00pm.