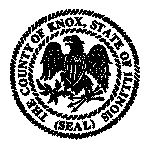 On Wednesday night the Knox County board will consider the approval of several vehicles for the county Nursing Home and the Sheriff's Department.
The board could approve the purchase of a replacement truck and plow for the county Nursing Home for the purpose of snow removal during the winter season.
The county requested bids for the truck and plow, and according to board documents received bids that will cost the county over $34,321.94 for the truck and snow removal equipment.
The board also will most likely approve an emergency purchase of vehicles for the Sheriff's Department after one department car broke down, and the existing prisoner transport vehicle has over 200-thousand miles on it.
Total cost to the county will be $35,625 and include two 2015 Ford Taurus with the police package, and a 2011 Ford Crown Vic.
Board members will also consider the approval of two construction projects from Hein Construction.
The first project is for sound proofing at the Administrative Annex.
In the County's Building Committee meeting earlier this month, Sheriff David Clague informed the committee that personnel in the Veterans Office could hear clients and public defenders in their office next door.
Hein's bid of $4,530 was accepted by the building committee, and now goes for approval to the full board.
Additionally the board will consider the approval of adding a metal shroud for $1,260. to a staircase used by Circuit Clerk staff after a staff member nearly fell off the stairs.
Also on the agenda is the approval of a bid for auditing services, a resolution for Deeds of Conveyance, and the approval of a salary resolution for the County Engineer. The salary resolution see's a 1% increase in the pay to the County Engineer, Duane Ratermann.
The board meets Wednesday at the Courthouse's main courtroom on the second floor at 6:00 p.m.