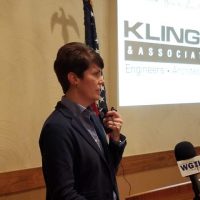 It was said she organized almost the entire event, and didn't even know she was winning an award at it.
Galesburg City Clerk Kelli Bennewitz is this year's Thomas B. Herring Community Service Award winner from the Galesburg-Area Chamber of Commerce, given out Monday at the Chamber's annual Thanksgiving Luncheon.
"[Kelli] is a dedicated individual, who mentors those around [her]," says Fire Chief Tom Simkins, the 2016 Herring Award winner. "[Kelli] has a heart for community events — volunteering for the Taste of Galesburg, Run Galesburg Run, Big Bang Boom, Railroad Days, Day of Caring, and Second Chance Prom." And that's not including organizations she's been involved in, from Leadership Greater Galesburg to the Altrussa Club.
Bennewitz says she was indeed surprised.
"I love this community," says Bennewitz. "I say I was born and raised here, which I think means a lot to the people who were born and raised here. This community is everything to me. I love what I do, and I love the people I work with. My husband is not from here, but obviously we chose to raise our family here. I'm proud of the work that our city does, our council does, our administration does, that my office does. This means a lot to me."
The Herring Award is named after the longtime Galesburg City official.
Bennewitz will be a guest of Tom Meredith on Galesbrug's Morning News Tuesday at 8:10am.