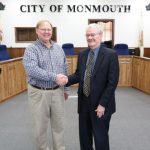 Monmouth College has made a gift of $25,000 to the City of Monmouth's Fire Department.
The colleges Vice President for Finance and Business Richard Marshall says that the gift was made to support the safety of students but adds that its good for everyone in the city to have a strong fire department.
Marshall also says it represents how much the college appreciates all the city does to make Monmouth a "wonderful place to live and work."
City Manager Lew Steinbrecher says this is just a continuation of a long "healthy relationship" between the two entities, telling WGIL that about 15 years previously the college donated a fire truck. "This gift of $25,000… is a continuation of that. Just how healthy and strong that relationship is between the city and the college."
Steinbrecher says that the funds will largely go towards personnel costs for the department, essentially salaries and health benefits of firefighters – who are constantly on duty providing fire protection services to the community as well as the school.
Mayor Rod Davies says that the city values the "strong relationship" they have with one of their largest employers.