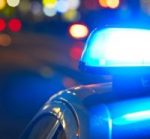 Responding to a call for a retail theft complaint that occurred earlier in the day on Wednesday at Walmart – Galesburg police arrested two individuals. 
According to reports, around 11 p.m. store employees stopped 47-year-old Phillip A. Alfaro after he had used the self-checkout lanes and did a receipt check – identifying a television in his cart that still had a security device on it.
Allegedly Alfaro became belligerent and claimed a mistake was made in the process of using the self-checkout registers.
Allegedly discrepancies were found on his receipt, and – after review of the video – officers charged Alfaro with felony retail theft.
In the police reports, it was indicated that Alfaro had been in the store earlier in the evening and attempted to push a cart of groceries out without paying for them.
Further review of the video found that Alfaro was working in conjunction with a woman in his party.
After conducting a search across town, 39-year-old Michelle L. McKee was tracked down to a home in the 200 block of North Seminary Street, and too was charged with felony retail theft.
She was also charged with driving on a suspended license, and for a failure to appear in Knox County warrant – stemming from a class 3 felony of forged credit/debit card use.