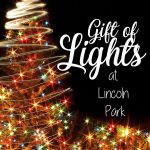 A new event that may become a local holiday tradition is soon coming to Galesburg.
It's called the Gift of Lights, a festival of lighted displays that will deck out Lincoln Park in from three weekends starting on Nov. 24.
Cars will enter on Lincoln Park Drive near Bunker Links Golf Course and go through the park and exit near U.S. 150.
Mona Magness and her family brought the idea from Las Vegas, where they recently moved back from. Magness is a Galesburg native.
Last year she noticed that Galesburg didn't have anything quite like the Gift of Lights they experienced in Vegas and wanted to bring a little holiday cheer to the area.
Magness tells WGIL that she and her family are heavily involved in putting together lighted displays. "We have many volunteers and many families that have wanted to make this a family tradition themselves – which was the effort for the start of this."
She and her family have also put forth a lot of effort to design displays and put up lights. "We thought it would be a real good idea to bring some holiday cheer to the friends and families here – and the kids." Magness said, "So we decided to create our own Gift of Lights here in Galesburg, and see if the city and the community here would be accepting of it."
The entry to go through the park will be a suggested donation of $5 with a different local non-profit getting the proceeds each night. Those groups will also be helping out different nights.
A few of those already signed up include the Knox County Humane Society and the Lion's Club.
Any questions or info on how to get involved can be directed to Mona Magness by phone, email to giftoflights@yahoo.com or by visiting the event's Facebook page.