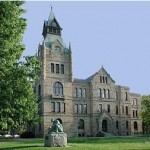 The Knox County Building Committee were given another update on the courthouse exterior project at Tuesday night's meeting. 
Cody Basham with Klingner and Associates said that he had completed the final inspection on the courthouse, giving the final list to the mason.
He said the only thing that did not meet inspection was the handrails on the courthouse steps – which he said he hoped to have new handrails installed by the end of the year.
"The deal with those is they take approximately three weeks to fabricate in the shop, and by the time get the railings drawn up, get a stamp applied to them from a structural engineer, and then get them fabricated and painted – you're at six weeks out," Basham told the committee.
The committee approved another installment of payment on the work done at the courthouse for $23,225.94.
County Board Chair Pam Davidson asked if it were possible to install cameras on the courthouse – saying someone had thrown a large rock through the treasurer's office window recently.
Sheriff David Clague told the committee that he had looked at the idea previously and the costs would come in at well over $20,000.
Clague also brought two issues to the committee – the first being the need to sound proof the Public Defender's office.
He said that personnel in the Veterans Office could hear the public defenders and clients in the office and vice-versa.
Basham received a bid from Hein Construction for the work, which Clague said would total out to $4,530.
Hein had also submitted a bid for a second issue that Clague brought to the committee – the addition of a shroud to a spiral staircase at the courthouse for $1,260.
Clague said that a courthouse employee had slipped on the staircase – nearly falling through.
The committee approved both projects, as well as the payment $8,705.26 to install a road to Hidden Hills Winery in Knoxville.
Before the county can sign off on the bill, the committee decided to submitted it to the Highway and Zoning Committee for approval as well.