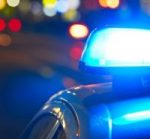 A Galesburg man was arrested this weekend on Forgery charges for paying for pizza with counterfeit money.
On October 29th, Galesburg police officers were notified by Dominos Pizza that they had allegedly received 50-dollars in fake cash during a delivery to a house on the 500 block of Rio Street.
According to police reports, the individual paid for the pizza in counterfeit cash, but tipped the delivery driver with real currency – even using a fake dollar bill with the same serial number as one of the real bills.
After getting the description of the individual who paid for the food, officers visited Rio Street home and spoke with a man who allegedly matched the description – 27-year-old Jesse R. Finley.
Finley allegedly admitted to paying with money given to him by a friend, and was informed that he needed to pay Dominos for the pizza.
Galesburg police officers informed him that he could face future charges for carrying both a real and fake bill with the same serial numbers.
Officers did not arrest Finley until Saturday morning.