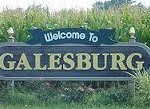 Galesburg has struggled bouncing back from an exodus of manufacturing employers and the housing market crash about a decade ago.
Still, the two men at the top of Galesburg's City government saying they are starting to see positive signs resulting from cumulative efforts.
City Manager Todd Thompson says they have a good "balanced" approach that has attracted businesses.
Thompson says they have a "good system" working which includes the last few years of work from the Knox County Area Partnership for Economic Development.
He says lately businesses have been saying that they enjoy doing business in the city.
Mayor John Pritchard says that a number of things the city and partners have done are making a more business friendly culture, saying "I've talked to companies that have started projects here in the last few years. They're pretty impressed. There's nothing that we're doing to chase them off, perhaps that wasn't always the case."
Pritchard admits that a large-scale employer, similar to a Maytag, are not likely to come knocking on the door. "We don't have a lot of available skilled workforce. We've got companies now that are struggling to find trained people – skilled people. That's probably where a lot of focus is going to go. Cause if we can solve that problem, then we'll get companies that want to come here."
He jokingly added that Amazon probably won't build their second headquarters in Galesburg either.
Pritchard says that getting momentum behind development is slow, citing that the first new houses are just now being built are an over decade hiatus.
He points to initiatives like the Area Partnership for Economic Development, and the Galesburg Promise as well as marketing efforts as some things aiding the town's growth.