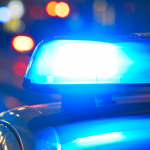 After receiving a tip to a possible mobile meth lab, Galesburg Police located meth manufacturing materials in a vehicle located outside the Broadview Inn. 
According to police reports, officers responded to the Broadview Inn at around 3:15 A.M. Thursday where a free air sniff test was performed by a K-9 unit – alerting to a white 2003 Ford E150 van in the north parking lot.
Officers could not get permission to search the vehicle, thus obtained a warrant and turned up shotgun shells, handgun bullets, and a backpack containing methamphetamine manufacturing materials.
Those materials included bottles of Lye, liquid fire, muriatic acid, gloves, matches, and lithium batteries.
No arrests have yet been made in the case.